Demands for climate reparations to lead global day of action for climate justice - press release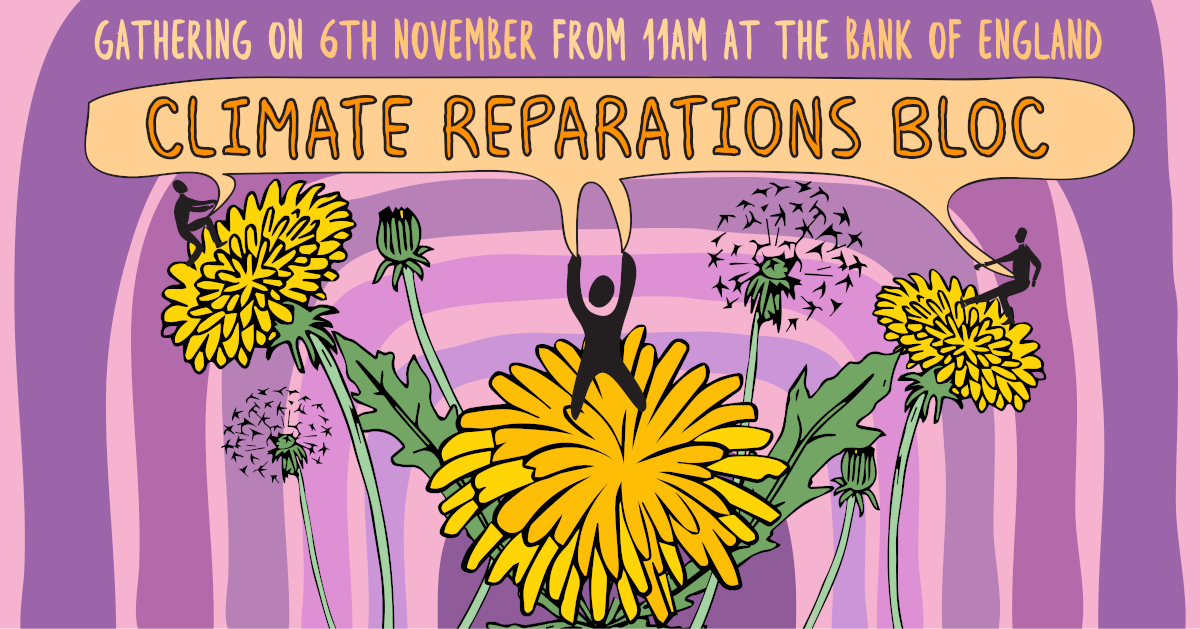 For immediate release
Today hundreds of people will gather outside the Bank of England at 11:30am. They will be heading Trafalgar Square for one of the biggest rallies this year! 
In London, the rally will be led by a group of grassroots collectives demanding climate reparations. Namely: Wretched of the Earth, Platform, Black Lives Matter UK, Disabled People Against the Cuts, Revoke, No More Exclusions, Land in our Names and many more. Tatiana Garavito from Tipping Point UK says:
Climate collapse is the effect of an old and broken economic and political system that only benefits the elites and some in the Global North. We have come together as people at the receiving end of that system to say no more and to show what real leadership and an alternative system based on care and solidarity looks like
The climate reparations bloc will be reminding world leaders at the UN Climate Summit in Glasgow and the civil society that the richest 10% are responsible for nearly 52% of total emissions driving our climate crisis and  2,153 billionaires hoard more wealth than 60% of humanity. 
The bloc demands that world leaders stop fueling these injustices that have led to the climate crisis, through allowing banks, insurers and other private financiers to profit from fossil fuel projects, tax havens and unjust economic debts. Instead, the bloc demands that global north countries repair the harms that for hundreds of years the current economic model has caused to communities around the world and which has led to climate collapse and their inability to adapt. Brianna Fruen, one of the organisers visiting  the UK for the COP26 says: 
To put it quite simply, we are in the eye of the storm. What we are fighting for is a chance at survival
Last week, Nicola Sturgeon made history when her government created a one million pounds fund to address the loss and damage of communities around the world. But a million pounds is just a drop in the ocean. By 2030, it is estimated that between 290 and 580 billion US dollars would be spent on loss and damage only in the developed world. Real leadership would see world leaders delivering on the promises of past agreements and redistributing trillions of dollars to communities in the global south who are having to pay with their lives and livelihoods. Keval Bharadia, a member of South Asia Solidarity Group and INOSAAR, the International Network of Scholars and Activists for Afrikan Reparations says: 
The rich are awash with unimaginable levels of wealth. It is estimated that 32 trillion dollars are stashed in government sanctioned tax havens. Whilst 38 trillion dollars are traded through the global financial and commodity markets every day. And the 15 biggest military spenders squander 4.3 billion dollars each day on arms and violence. These numbers show climate change, like poverty and debt, is a political choice made by the richest nations with the largest militaries and corporations on earth. Many of them are responsible for enslavement and colonialism that gave birth to capitalist production, the cause of climate change for which reparations are still owed. Grassroots reparations are not merely symbolic or compensatory, they are a pathway to a future that fundamentally addresses the most pressing issues of our time that are legacies of colonialism including poverty, inequality, debt and climate change
The climate reparations bloc has put together a set of STOP & START demands which can be read below: 
STOP DEMANDS: Climate justice means keeping fossil fuels in the ground, right now. Real climate leadership from the UK government would mean they STOP: 
coal, oil, gas and fracking projects 
giving public money to polluting industries 
banks, insurers and other private financiers from supporting and profiting from fossil fuel extraction
fossil-fuelled militarisation and new infrastructure like roads and airports
debt collection from global south countries and marginalised communities within the UK
hostile migration policies
privatising public spaces and community infrastructure
START DEMANDS: Climate justice means securing finance for the care and repair our communities and planet deserve. Real climate leadership from the UK government would mean they START to: 
make polluters like coal, oil and gas companies pay climate reparations
invest in good, green jobs, especially for workers transitioning from high carbon industries and projects and those hit hardest by climate impacts, Covid-19, and precarity
democratise resilient and green housing, community infrastructure, and land access with strong social protection policies
pay for the climate harms that the UK drives around the world
democratise the financial industry to force a just transition
reverse cuts to Overseas Aid and promote debt relief and cancellation
democratise corporations continuing to extract and exploit abroad
create safe ways for people to migrate with dignity 
giving decision making power to communities on the frontline of health, climate, economic, and social injustice
enable young people to co-create education that serves well-being for thriving and sustainable communities 
This bloc is bringing together those demanding repair and transformation now. From climate justice to land justice, education to migration. All our struggles are connected. 
Some quotes from organisers co-leading the bloc
Our world requires care and repair now, and there is no climate justice without justice in education. We don't campaign to abolish exclusions because of a belief in inclusion within a harmful system. We believe in transformation, and following young people's lead to get there. A sustainable future is a future in which no one is left out.

Zahra Bei, No More Exclusions 
We're taking part in the Climate Reparations bloc because there can be no climate justice without repairing the harm that has been caused by resource extraction for centuries, especially by Western powers in former colonies and the Global South at large. May it be digging for oil in Nigeria or extracting sugar from slavery plantations in Jamaica, it's all part of one system. And there can be no climate justice without solidarity with those who feel the impacts of this legacy the most. Starting from those around us here in London, working-class, black and brown communities, those from migration and refugee backgrounds. That's why Platform stands in solidarity today with all the collectives co-leading the bloc, to make our demands for serious climate action and repair loud and clear.

Laurie Mompelat, climate justice/ London LEAP campaigner at Platform
Due to the historic interconnections of  racial injustice, unequal access to land and  the climate crisis, we at LION (Land In Our Names) call for land as  reparations – to repair the injustices of the past that lives on in the present

Josina Calliste, Land In Our Names
For media enquiries, please contact:  Based in London:  Keval Bharadia: kev.bha@gmail.com
Harpreet Kaur Paul:  harpreet@tippingpointuk.org
Kieran Kirkwood: fuzz.k101@gmail.com
Based in Latin America:  Tatiana Garavito : tatianagaravito@gmail.com 
Tweeting at  #UprootTheSystem  #UprootTheCOP   #DefundClimateChaos  #ClimateJustice #ClimateReparationsNow