The wind is blowing in the wrong direction, and states are failing to meet the Paris Agreement goals set back in 2015.
From COP(OUT) 26 to "Just Us" - Building global movements to win climate justice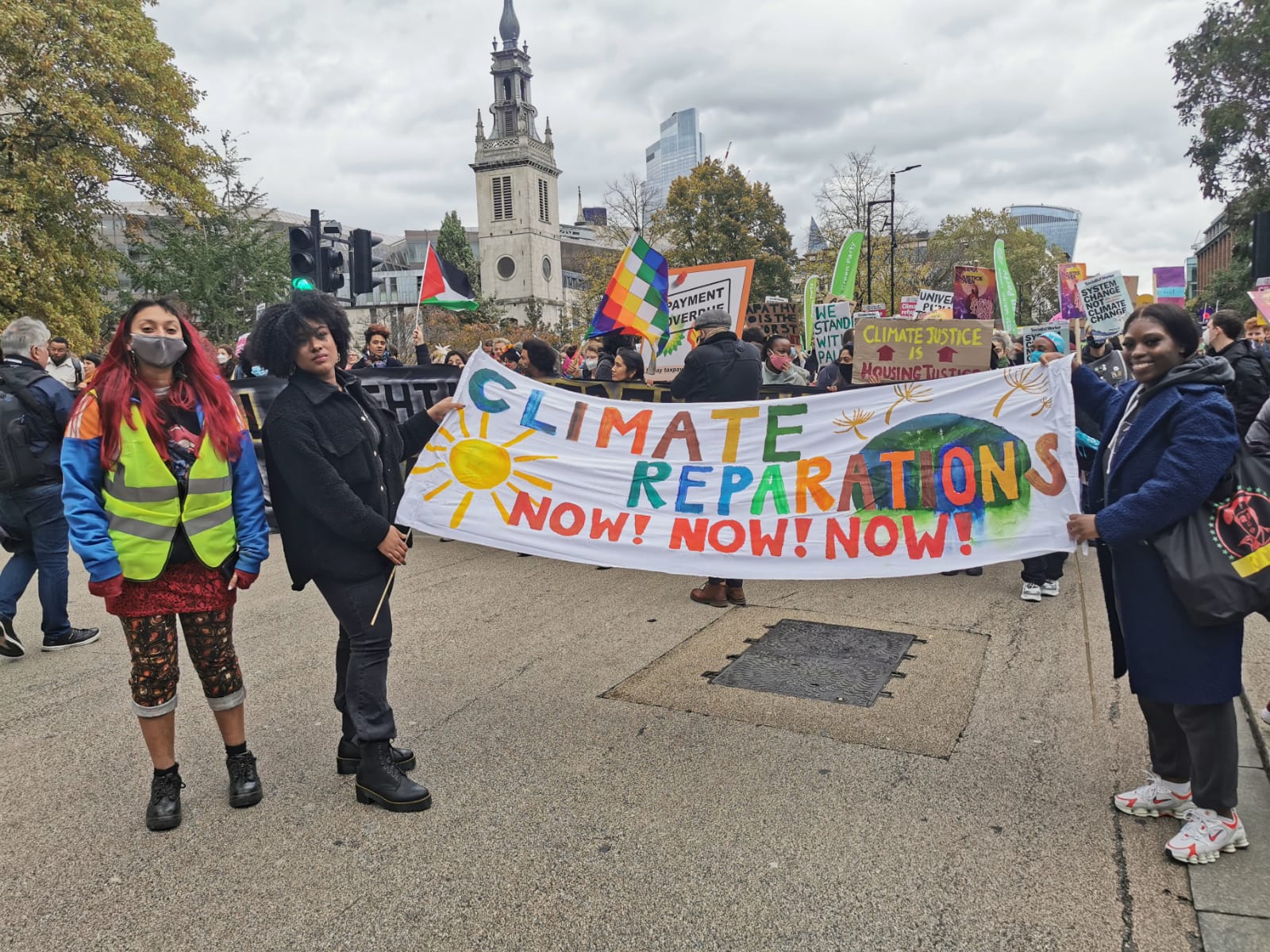 The UN Climate Conference – COP26 - failed even though it took place at a pivotal time, where decisions today dictate whether or not we can limit warming to the safest level still attainable, saving billions of lives. The wind is blowing in the wrong direction, and states are failing to meet the Paris Agreement goals set back in 2015. Yet, past climate conferences have also failed to deliver and this one was particularly marked by concerns that vaccine apartheid (which the UK has contributed to by failing to make vaccines available through patent waivers), which limited participation from those that have faced climate impacts for decades already.   As a first-year student at Oxford, I had the chance to speak at the Oxford Union, debating that 'this house has no confidence in COP 26'. I agreed with this statement because I feel as though we get lost in translation about climate justice. We need radical measures to stop the climate crisis accelerating out of control, and those on the forefront have ideas, experiences, and knowledge but are constantly shut out. Time and time again our grassroots movements work tirelessly to take justice on their terms, all while bearing the brunt of the earth's wrath. Whether it be due to poverty and all its preventable yet intersecting issues that cripple us, we all continue to live under governments (with ours the sixth richest nation in the world) that continue to turn the other cheek.   The World Health Organisation sets healthy limits for air pollution, to which it exceeds in every London borough. This means that for me, the climate crisis has always hit home, in the South London council estates that I spent my childhood in. I grew up unaware of the toxic air that I was breathing, alongside my peers and my family, to whom most have fallen ill or have otherwise been negatively impacted by as such. What scares me, even more, is how likely we are to be predestined to such doom. Air pollution can have a damaging effect beginning in the womb. A 2016 Royal College of Physicians and the Royal College of Paediatrics and Child Health report found that air pollution contributes to about 40,000 early deaths per year in the UK.   Climate doom is an illness that we easily succumb to, with the media plaguing us with damning news that raises alarm bells and questions with what feels like no solutions. This is more than understandably so since such beliefs are perpetuated: the UK is scheduled to emit three times more than what's required to limit warming to 1.5 degrees celsius. Failure to meet this goal will drastically increase droughts, extreme heat waves, and sea-level rise. Should action take place, limiting warming to 1.5°C will bring health benefits, including reducing cases of dengue fever and malaria by hundreds of millions of people. It could prevent about 153 million premature deaths from air pollution worldwide by 2100, with about 40% of those over the next 40 years. There will also be positive impacts in the UK, with fewer deaths and damage from floods, heatwaves, and air pollution.   Despite this, we must not give in to it but instead fuel it as motivation towards saving our shared and only home, the Earth. The campaign I co-founded with my friends, Choked Up, ensures we acknowledge that air pollution is not both an environmental and a social justice issue. Our black and brown communities are not only the most impoverished but also those worst affected by air pollution. Our individual needs and differences are not too 'complex' to be catered for and they must be acted upon. We urge the government to enshrine our right to clean air in UK law because it is so cruel that our socioeconomic circumstances currently govern the quality of our lives. We should never have to question whether communities in Lewisham, Croydon & Tower Hamlets deserve a lower quality of life than those living in Westminster and Kensington & Chelsea, but, without the right governmental intervention, we continue to suffer and never again should we ever have to.   Justice is at the centre of this, because communities living in higher areas of air pollution and who are impoverished have contributed least to our crisis. They have fewer homes to heat, fewer (if any) cars, fewer flights taken to tropical lands. Yet they are at the forefront of impacts. This is a story that's replicated globally. Instead of investing in good public transport and addressing air pollution at home, the UK is trying to open new coal mines and expand oil and gas exploration, it gives away our money to polluters. At the same time, it is cutting overseas development aid. 
The UK's oversized contribution to the climate crisis sits on top of its wealth accrued from slavery, colonialism and ongoing unfair trade. The UK cannot justify its failure to act responsibly having benefited from injustice and continued failure to reduce emissions meaningfully. To take one example, from the free book Perspectives on a Global Green New Deal, over 20 million people in Nepal, 82% of the population, lack access to clean and safe methods of energy for cooking, disproportionately exposing the women who undertake this labour to toxic air. Household air pollution from unventilated cooking with fuelwood and charcoal presents a serious public health hazard, contributing to asthma, acute respiratory infections, tuberculosis, strokes, low birth weight, and cataracts, among other healthcare risks. 
The average person in the UK emits roughly 20 times more carbon compared to someone in Nepal. But, not everyone in the UK is contributing the same way. Justice within and between countries means making sure communities from Lewisham to Kathmandu are not made to pay for a crisis they did little to cause. Instead of giving away taxpayer money to polluters, the UK government should be taking concrete action today to stop fuelling our crisis, and start repairing the consequences of past emissions at home and globally – as highlighted by Tipping Point UK, Platform London and other groups in these important Stop & Start demands.   What I am looking forward to beyond the failed climate conference, is coming together with global partners working for justice. Justice is composed of 'just us', together we can build the powerful movements – uplift each others' demands, and share our narrative and voices. We are not asking for voice, we are coming together to let ourselves be known.